Xuzhou Kedah Fine Chemicals Limited (formerly Jiangsu Tetradiamond Dyestuffs Group Company) is one of China¡¯s major producers of vat dyes.
With nearly 50 years¡¯ specialization in vat dyes, Kedah has set up a complete and well-equipped production system: the annual capacity is more than 10,000 M/T for vat dyes of nearly 50 varieties. About 40% of Kedah¡¯s products are for exports, mainly to the U.S.A. and the EU. Kedah¡¯s environmentally more accepted products are particularly well received in overseas market.
Kedah values the quality of products as the life of the company. The labs, equipped with complete and sophisticated facilities, keep strict monitoring and control on materials, production processes and finished products to ensure good and consistent quality. Meanwhile, great attention and investments have been devoted to the improvement of technical processes, research and development of new products. As a result, Kedah is recognized as ¡°The Provincial High-tech Enterprise¡±, and listed in ¡°China Top 10 Innovation Chemistry Industries¡±, its trade mark ¡°Tetradiamond¡± ranks among ¡°The Provincial Famous Trade Marks¡± and some dyes of Kedanthren brand are listed as ¡°The Provincial High-tech Products¡± and ¡°The National Key New Products¡±, and also have been Intertek Green Leaf tested and passed Eco-passport Certification.
Kedah keeps promoting its management to a higher level. Now Kedah has been ISO9001, ISO14001, and OHSAS certified.
Kedah commits to continual improvement of environment by establishing large-scale waste treatment facilities and the application of advanced technology to reduce water, air and land contamination wherever possible.
Kedah has moved to Xuzhou Industrial Park in 2012. Covering an area of over 150,000 square meters, the first-stage project of annual output of 10000m/t vat dyestuffs has been constructed and put into operation. Many new equipments and materials are adopted in the new plant. Meanwhile, under the instructions of international well-known dyestuff specialist, Kedah optimizes and adjusts its production processes so that Kedah improves its production scale, technologies and equipments to lay a good foundation for further development.
Kedah offers quality products and services. ¡°Meeting the needs of our clients¡± has been stipulated in our ISO9001 certification documents as the goal of the company¡¯s performance.
Kedah is always seeking new opportunities.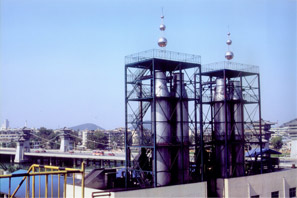 ¡¡¡¡¡¡